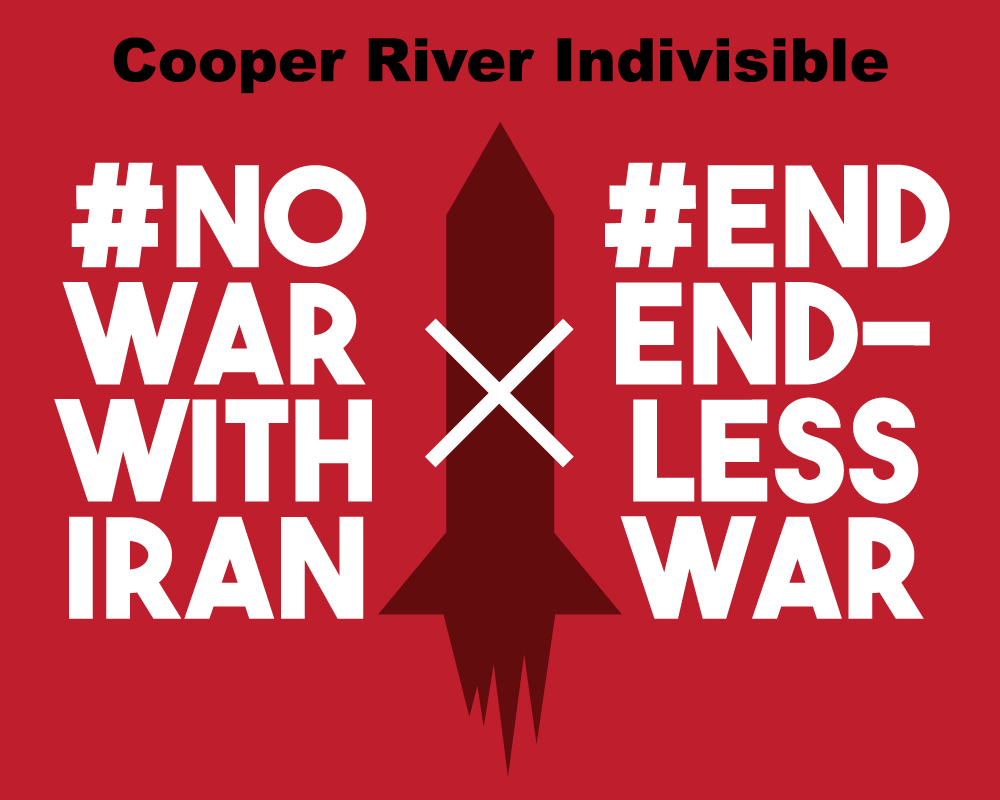 Statement on U.S. Strike on Iran
Last night, news broke of an airstrike in Iran that assassinated Iranian General Qassem Suleimani, along with four other people. This strike was ordered by President Trump without Congressional approval or notice, and seems clearly motivated by a desire to change the topic from impeachment. War with Iran is unnecessary and immoral, serving neither ethical nor practical concerns. The march to war with Iran must be stopped immediately before it goes any further. As such, Cooper River Indivisible calls on Representatives Donald Norcross and Andy Kim to publicly state their opposition to war with Iran, and to act aggressively to stop it.

The Trump Administration is likely to rely upon the Authorization For Military Force (AUMF) as its legal justification for this strike. This is legally dubious, but also presents an opportunity for Congress to reassert its constitutional powers: by repealing the AUMF. The 2001 AUMF has been used for nearly two decades to justify military actions around the globe without Congressional approval. To their credit, both Congressman Kim and Norcross voted for the Lee Amendment this summer, which passed AUMF repeal out of the House. We encourage and implore them to renew their efforts to repeal the AUMF, up to and including using leverage like government shutdowns. President Trump's blundering and blustering illuminates exactly why the AUMF cannot be left enshrined in law. It has been, and will continue to be, used to perpetuate America's endless wars.

Congressmen Norcross and Kim can show the leadership that grassroots organizers and volunteers elected them to show by stating unequivocally that they will oppose any and every effort to take America into war with Iran.

Cooper River Indivisible will not support, and will work to defeat, any Member of Congress that contributes to embroiling America in another immoral military disaster, regardless of party, other policy agreements, or past history.

No war with Iran.