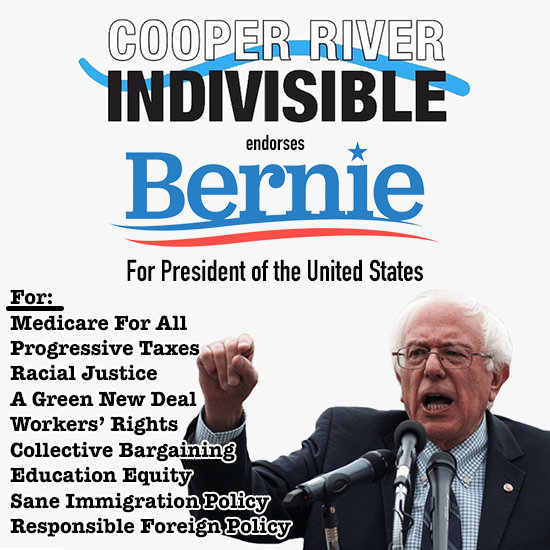 CRI Endorses Bernie Sanders for President
Cooper River Indivisible is, and always has been, an organization dedicated to progressive values. We were founded in the wake of Trump's election in 2016, with the explicit and stated purpose to resist his administration's agenda. We have always seated that mission within the broader progressive movement: truly fighting against Trump's far right agenda means fighting for an agenda that uplifts the vulnerable, protects the defenseless, and empowers the many.
Fighting for such an agenda is why we sponsored marches and protests against the concentration camps along our southern border, but also called Andy Kim to account for voting for more funding for ICE. It's why we took part in die-ins to defend the Affordable Care Act, but also engaged in pressure campaigns to convince our elected officials to support the strongest prescription drug bills available. It's why we protested against Trump's warmongering with Iran, but also met with Donald Norcross to demand he repeal the AUMF, which is still being used to justify endless wars around the globe.
Donald Trump is a symptom, not a cause, and the world will not suddenly become better when he is gone. The world was not better before he was elected, not if you were poor or working class, not if you were a woman, not if you were a person of color, not if you were a member of the LGBTQ+ community, not if you were behind on your mortgage or struggling to pay your medical bills. There are deep, structural problems in America that require bold, progressive change.
In this current Democratic primary, we were blessed to have several progressive options to choose from. When the CRI membership and leadership was polled in the spring of 2019, two clear winners emerged amongst our preferences: Elizabeth Warren and Bernie Sanders. When both were still engaged in the race, CRI felt an endorsement of either was premature; there were, and are, strong arguments for a preference for Warren or Sanders, and as an organization, we would have been delighted to work to elect either one.
At this point in the primary, however, there is only one progressive still in the race, and we throw our entire weight behind his candidacy. The climate cannot wait, the sick cannot wait, the lives of our black and brown brothers and sisters cannot wait, the working people of other countries who live in fear of drone strikes and pointless wars cannot wait, the mothers struggling to pay for child care and health care and find money left over for the rent cannot wait, the poor and struggling working class of our nation cannot wait.
Cooper River Indivisible endorses Bernie Sanders for President in 2020.